Croquettes are delightful little food rolls covered in breadcrumbs which are fried into deliciousness. They often contain as main ingredients mashed potatoes, animal meat, cheese, vegetables, and mixed with béchamel sauce.
In this case, we certainly will not be using animal meat and choose to replace this with a few pieces of the bacun from Loving Hut's freezer section, but this is entirely optional and not even necessary!
The cheese used in the middle of the croquettes was the delicious Smokey Gouda from The Non-Dairy Evolution Cookbook which I can't recommend highly enough. Just 20 minutes to make cheeses like Mozzarella and Smokey Gouda and my vegan world has improved tenfold.
These babies are filling and the soft gooey cheese centre that your teeth sink into after crunching through the breadcrumb coating is perhaps somewhat indescribable. You're just going to have to make them for yourself to find out!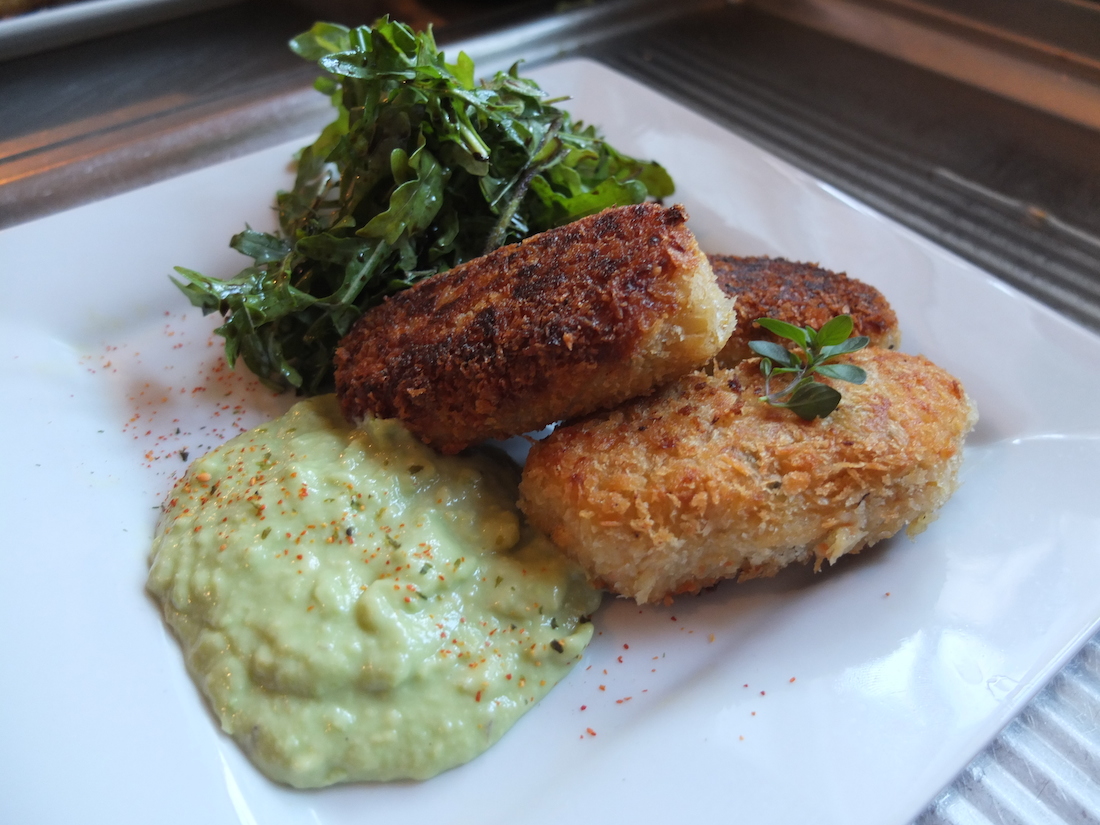 Gather together your ingredients!
Stir together the croquette mixture.
The Smoky Gouda cheese from The Non-Dairy Evolution Cookbook which I could not recommend highly enough!
Personally I have always been disappointed by the vegan cheeses on the market and stopped bothering. However, successful runs of feta, parmesan, mozzarella and smoky gouda have been an absolute hit!
With the right amount of flour into the wet ingredients, a ball of the croquette mixture can be flattened onto the palm of your flour-dusted hand. A slice of the Gouda cheese is placed in the middle and the croquette mixture is then pinched around the cheese using the palm of your hand.
The Gouda cheese is to be completely encapsulated inside the mixture ready for frying!
Prepare the coating ingredients and get ready to dunk n' roll!
Delicious crispy breadcrumb croquettes ready for the pan!
I have to admit, I love fried food .. mmm delicious!
I ended up a little speechless at how utterly delicious these gems are. The Gouda cheese melted absolutely perfectly in the croquette mixture. The liquid smoke element to the Gouda cheese just floated on your tastebuds mildly.
Oh sweet jesus.
| | | | | | |
| --- | --- | --- | --- | --- | --- |
| Servings: | 3 servings / 15 croquettes | Prep Time: | 30 Minutes | Cook Time: | 20 Minutes |
Ingredients For The Dutch Potato And Gouda Vegan Croquettes
6 baby potatoes
1/2 sweet potato
1 brown onion, finely diced
1 celery stick, finely sliced
6 white mushrooms, finely sliced
3 spring onions, finely chopped
1 tbsp minced garlic
Handful of shredded herbs (basil, oregano)
Optional: 6 slices of Loving Hut bacun, finely chopped (alternatively, Fry's deli slices or other vegan meat)
2 tbsp Nuttelex butter
3/4 cup of plain flour (approximate)
Additional plain flour for covering your hands to roll the croquettes
15 x 1cm sticks of Smoky Gouda cheese from The Non-Dairy Evolution Cookbook
2 cups of breadcrumbs (recommend a crunchy brand like Nisshin Panko)
1 cup of soy milk
Himalayan salt and crushed peppercorns
Enough olive oil to fill a frypan just under 1cm
Ingredients For The Salad & Avocado
1 whole avocado, mashed
1 tbsp mayonnaise
Rocket salad
Balsamic dressing
Steps For Making The Dutch Potato And Gouda Vegan Croquettes
In a large saucepan, add hot tap water and start to boil the potatoes and sweet potato.
Meanwhile, cut up the onion, celery, mushrooms, spring onions, and bacun.
Once you've cut everything up, the potatoes should be cooked. Remove from heat, drain and mash.
While the potatoes cool down, fry up the garlic, onion, celery, mushrooms, spring onion, bacun and some of the herbs until soft.
Remove from heat and mix into the potato mash saucepan with the Nuttelex butter.
Now that you have your wet mixture, adding flour helps balance the stickiness out. You don't want to add too much or the mixture will be dry and won't hold together, but you need to add enough that it is a rollable consistency while still remaining a little bit sticky. You'll likely need to stop a couple of times and use a butter knife to scrap off the mixture from your hands!
Once the mixture is in a ready to roll state, use a flour covered hand and grab a scoop of the mixture. Flatten it out on your palm and place a stick of Gouda cheese in centre. Roll the mash around the Gouda cheese by pinching your palm together ensuring the Gouda cheese is entirely encapsulated. Then coat the entire croquette with flour and place on a plate.
Do the same for the remaining mixture until all croquettes are rolled.
Before proceeding with the croquettes, mash the avocado and mayonnaise together in a bowl – try to get all the lumps out so it's smooth (or use a food processor). Then prepare the rocket salad on each plate and drizzle with balsamic vinegar.
Once the salad and avocado is ready and all of the croquettes are rolled, now is the time to coat them in preparation for frying. Dunk a croquettes in soy milk, roll it in breadcrumbs and ensure a thick coverage. Press so it's tight and place back on the plate.
Do the same for the remaining croquettes.
Heat the olive oil in a frypan on high heat. The olive oil should be just under 1cm high.
Cook however many croquettes you can fit into the pan for 1-2 minutes. You may need to do two batches. As the oil is relatively deep, it will slightly cook the sides so all you need to do is just turn them from top to bottom.
Serve and enjoy while hot!
Dutch Potato And Gouda Cheese Vegan Croquettes